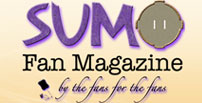 Sumo's

Foreign

Invasion




Mark Buckton


Sumo - still Japanese or truly International?

Rikishi of Old


Joe Kuroda


A look at a rikishi of yesteryear with Umegatani II our man for June

Heya Peek


John Gunning


John attends asageiko at Takasago-beya to give us the first of his bimonthly looks at sumo's stables

Photo Bonanza


Kurt Easterwood & Quinlan Faris


Kurt & Quin treat us to some of the best sumo pics around - and seen nowhere else

May Basho Review


Lon Howard & John Gunning


Lon gives us his Natsu Basho summary and his take on upset of the tournament while John chips in with his 'gem' of the basho

Lower
Division
Rikishi
Mikko Mattila
Mikko provides his round up of the boys in Makushita and below at the Natsu Basho
July Basho Forecast

Pierre Wohlleben & Mark Buckton
Pierre predicts the Nagoya Basho banzuke while Mark previews the ones to watch next time out
Sumo 101
Barbara Ann Klein
Rhyme and reason behind the pre-tachiai rituals that mystified us all as beginners
Kimarite Focus


Mikko Mattila


Mikko walks us through A, B & C
Minusha

John McTague
John's unique view of news from outside the dohyo
Las Vegas Jungyo Teaser



Ngozi Robinson


Months away but like kids at Christmas we are still too excited not to mention it
Online Gaming
Moti Dichne
Hear from the founder of Guess the Banzuke (GTB) on exactly what makes it tick
Le Monde Du Sumo
The original team at MDS tells us how it all started
Sumo Mouse



Todd Lambert


Heya Links Galore and a focus on 3
Fan Debate

JR & EB square off: Right or Left - which should Asashoryu use when receiving kensho?
Let's Hear from You

What was it that made you a sumo fan?
Ngozi Asks

Question of the month - What is Sumo?
Sumo Quiz
The Quizmaster
Answer the Qs and win yourself next basho's banzuke
infamous 4-11 record. Hakuho, on the other hand, has yet to suffer a make-koshi.

Another highlight was the explosive sumo of Kotomitsuki, who ended the basho with 12 consecutive wins and returned home with a 13-2 jun-yusho record and the Gino-sho Technique Prize. At one point during the basho Kitanoumi rijicho called his sumo "scary." It is hoped Koto won't take this as a compliment though because the utterance was more frustration mixed with regret over what might have/could have/should have been. The many reruns of Kotomitsuki's 'will he / won't he' potential ozeki runs over the years need some follow-up before we can be lulled into buying in once again.

There were other gems too. At the top of this list is Kyokushuzan's 12-3 blast-off from M9, propelling him back up towards the sanyaku ranks. The elevator maestro again showed he can dominate in the mid-to-bottom part of the division and shared the Kanto-sho Fighting Spirit Prize with, surprisingly, M10 Futeno, the Dewanoumi man finally showing signs of becoming a sumo somebody with a sparkling 11-4. M8 Kotonowaka's lifeless start sparked the usual whispers of



intai but whispers turned into cheers as he steamed to the finish line with 4 straight wins and a kachikoshi 8-7 record. (The Shukun-sho Outstanding Performance Prize was not awarded)

M5 Kotooshu made a serious bid to return to komusubi with a healthy 10-5 effort, and M3 Miyabiyama slithered along as he does with his 8 wins to challenge for the same rank.

Furthermore, several up-and-comers buoyed the spirit, at least for now: Mighty mite M9 Ama continued creeping up the banzuke with an 8-7; M14 Kotoshogiku showed glimpses of "grand scale" sumo at 10-5; and makuuchi newcomer Katayama entertained all with his dynamic bursts of power and towering shiko displays in the pre-bout moments.

Of special note were M1 Roho, who managed a capable 7-8 record in his first showing at the top of the Maegashira ranks despite appearing totally lost in some bouts, and M2 Kokkai, who unraveled for the first time in his still short career at 5-10. Unless the man named after the Black Sea can develop a 'go-to' technique and learn where the mawashi is, he may not be able to push through to sanyaku anytime soon.



As always, some of the gods sent makuuchi men a-tumblin': Sekiwake Tosanoumi (4-11), M1 Tamanoshima (5-10), M4 Kaiho (4-11) and M17 Toki (6-9) all securing an unwanted lower ranks come Nagoya. The most notable and unexpected slide though came from recent ozeki hopeful, and current Natsu komusubi Wakanosato who finished with a 6-9. Other surprising slides appeared in the 5-10 records of M2 Tochinonada, M4 Iwakiyama, M7 Takamisakari, M11 Kisenosato, M13 Takanowaka and M17 Shimotori, while M12 Tokitsuumi managed just three wins.
Injury wise, in makuuchi, the basho's tragic figure was M14 Hayateumi, who apparently suffered yet another major knee injury and at 3-4-8, is again going down to Juryo, possibly for the last time considering the number of candles he lights on his birthday cake.
To wrap this first SFM Basho Summary, I am now entrusted with selecting one match as the UPSET of the Basho. Problem is - there really wasn't one, in terms of 'look who beat who!' at least. Therefore, in runners-up spot is Kotooshu's day 12 fling-down of Chiyotaikai to give the ozeki his second loss.
Next
Home