Brothers still active on the dohyo get their turn

SFM's most eminent historian, JK, has a crack at the impossible and tries to see who was the greatest of the tsuna wearers

Takanobori – former sekiwake, former NHK man and all 'round gent

Kitanoumi-beya, Kitazakura, mirrors & photo bonanza

Kazuyoshi Yoshikawa (son of the late sekiwake Takanobori) on life in sumo way back when

Behind every good man there stands a good woman – read and ye shall see. A departure from our regular 101 feature

plus much more through the lens of our photographers

Lon gives us his Hatsu Basho summary, along with the henka sightings results

Mikko Mattila covers lower division goings on in detail

Pierre predicts the Haru Basho banzuke while Mark highlights the ones to look out for in Osaka

Mikko takes us on a tour of his chosen kimarite

John's unique bimonthly view of sumo news from outside the dohyo and in the restaurants!

SFM's own Alexander Nitschke covers the long running Hoshitori Game

Todd's bimonthly focus on 3 of the most interesting sumo sites today

a pair of Kiwis exchanging opinions on the honbasho going on the road

SFM Cartoons


Benny Loh & Stephen Thompson


In the third of our cartoon bonanzas, sit back and enjoy BL's offerings and put a caption to ST's pic to win yourselves a banzuke

made you a sumo fan? A unique perspective from a sightless reader.

readers had to say since our last issue

Sumo Quiz


The Quizmaster


Answer the Qs and win yourself next basho's banzuke.

home the outstanding performance (shukunsho), fighting spirit (kantosho), and technique (ginosho) prizes, respectively.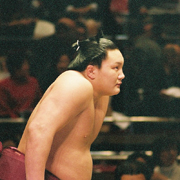 Hakuho



Even before his day 12 injury, it was evident that Asashoryu was off his game, having sacrificed some training time for another sojourn to Mongolia. Now with three potential rivals instead of just one, his passport may stay tucked away for a few months. Not much is known about the severity of the injury to his right arm – reportedly either a pulled or torn muscle – but if he doesn't get back into training timely, it will not be a good sign. Stay tuned.

Besides Tochiazuma's struggle to throw off kadoban, the major sub-plot going into the basho was Kotooshu's ozeki debut. One might feel the urge to depreciate his 10-5 record with losses on the final three days, especially





in light of the slimmed-down competition, but 10-5 is still 10-5, and with only one ozeki basho down, let's just wait and see.

Barring any intai announcement, Chiyotaikai and Kaio will both be kadoban in Osaka, which would be a record 9th for both men. Chiyotaikai is reported to have muscle issues (pectoral and neck) which will keep him off the practice dohyo for three weeks to a month. With Kaio's chronic lower back pain, who knows…the intai talk will probably continue until it finally happens, whenever that may be.

By basho's end, Hakuho had received the same promotion he received at the end of last year's Hatsu – to 'next yokozuna.' Of course, there's the stepping stone called ozeki to be negotiated first, but with a full year of sanyaku experience and a new bulked and buffed look – now over 150 kg – the ozeki hurdle seems entirely possible. Weightier still was his presence on the dohyo this time out – he wasn't pushed around as much, possibly due to his healed injured ankle. His tachiai was sharp, if not explosive, and he seemed in control of most of his bouts, reminiscent of how he surged through the maegashira





ranks in 2004. With his 9-6 Kyushu showing at komusubi and the 13-2 jun-yusho this time, it seems that 11 wins in Osaka should be enough to deliver the ozeki invitation to Miyagino-beya. Maintaining fire and concentration has been an issue with him though, so I'm still hoping, as opposed to expecting.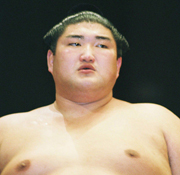 Kotomitsuki



Before the basho, there was 'speculation' – a/k/a desperate hope – that Kotooshu's rise to ozeki would spur heya-mate Kotomitsuki to new resolve to approach his potential. But even though 'Mitsuki faced only one of the five rikishi ranked above him, he still slipped and slid his way to yet another 8-7 mark. 'Nuff said – sad to say, sad to see.

There was little on hand to predict the breakout

Next