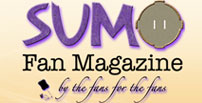 Amateur Sumo – the sport as it should be
Mark Buckton
Sakai World Sumo Champs – not all about winning

Las Vegas Koen
Joe Kuroda
Our man reports from the fight capital of the world

Rikishi of Old
Joe Kuroda
A look at a rikishi of yesterday with Kotozakura – our man for October

Heya Peek
John Gunning
John's early morning dash to Azumazeki-beya & report on TKOTU

SFM Interview
Katrina Watts sits down with SFM's Mark Buckton to discuss amateur sumo

Photo Bonanza
SFM's best yet – Aki Basho/ Las Vegas / Amateur World Champs / Azumazeki-beya visit – seen nowhere else

Aki Basho Review
Lon Howard
Lon gives us his Aki Basho summary, along with the henka sightings results, and his take on the tournament while 'gem' of the basho takes a break

Lower Division Rikishi
Mikko Mattila
Mikko Mattila returns to cover lower division ups and downs

Kyushu Basho Forecast
Pierre Wohlleben & Mark Buckton
Pierre predicts the Kyushu Basho banzuke while Mark previews the ones to watch next time out

Sumo 101
Barbara Ann Klein
Discovers and explains amasumo & ozumo variations

Kimarite Focus
Mikko Mattila
Mikko once again walks us through his chosen kimarite

Minusha
John McTague
John's unique bimonthly view of news from outside the dohyo

Online Gaming
Zenjimoto of 'game fame' covers some of the very best sumo games around – his own!

Kokugi Connections
Todd Lambert
Todd's focus on 3 of the most interesting online sumo sites today

Fan Debate
Is the limit on foreign rikishi fair? See what our debaters had to say

SFM Cartoons
Benny Loh
In the first of our cartoon bonanzas, sit back and chuckle at Benny Loh's offerings

Let's Hear From You
What was it that made you a sumo fan? Gernobono tells all

Readers' Letters
See what SFM readers had to say since our last issue

Sumo Quiz
The Quizmaster
Answer the Qs and win yourself next basho's banzuke.

wins had signs of untested ability.

In high makushita, Mongolian youngster Kakuryu (21) managed to get a 5-2 record which turned out to be his ticket to juryo. His sumo was fast and agile, but despite earning the privilege to take part in the dohyo entering ceremony as the only new sekitori in Kyushu basho, his countryman Mokonami was even more impressive. Possibly the best makushita bout of the basho was fought between Mokonami and Homasho. Mokonami had a strong 6-1 basho in Nagoya and now followed up convincingly with another 6-1 losing only to veteran Tamarikido. His sumo had a lot of resemblance to




Hakuho's sumo and since his body type isn't far from Hakuho's, one can't help but to compare them. Mokonami has a wonderful package of really apt footwork, basic skills, timing and throwing ability. His 6-1 at Ms8 will take him very close to juryo and it is not at all a long shot to predict that he will debut in juryo in January. Homasho is also getting ready for his sekitori career. He has athletic look, is strong and exhibits a balance between yotsu and oshi-sumo. He won his bouts very convincingly only losing that long even seesaw bout against Mokonami and to Satoyama after letting Satoyama play his game. Homasho's 5-2 at Ms7 after 5-2, 6-1 and 4-3 in three previous




basho also bring his oyakata. the former Terao, closer to having his first sekitori in the stable. Homasho doesn't have much competition in his own stable for now, so Terao himself puts on the mawashi to help his best rikishi practise.

Mihogaseki-beya has been the hottest stable lately due to its very competitive and stimulating intra-stable atmosphere and excellent success in lower divisions. Baruto and Shiraishi both made their debut in juryo in Aki basho and succeeded well. Now the third likely new sekitori is approaching juryo without many bumps on the road. One might have expected some sort of a shallow wall, at least for small Satoyama (175cm, probably less than 115kg), but he refused to cool down. Actually, based on Aki basho results, it was quite the contrary. Satoyama has had steady 5-2 records in makushita for three basho now but picked up pace by storming into 6-1 at Ms12 in the Aki basho. Satoyama only lost to Mokonam,i but beat Homasho. His ability to regain balance and defend against strong rikishi is outstanding. Sometimes, during his defensive phase of the bout, one can only admire his composure and calm – but fast counter measures –

Next Home