Brothers no longer active on the dohyo come under the SFM microscope

NHK & the Ozumo
English Broadcast


Mark Buckton


A visit to NHK, years of watching the show and the opinions of our Ed-in-Chief

Hanging With the Rikishi


Barbara Ann Klein


Barbara Ann Klein recounts her experiences with the "boys" in a pictorial diary series

A look at a rikishi of yesteryear with Chiyonoyama – our man for December

Sumo Exhibit at the
Edo-Tokyo Museum


Barbara Ann Klein


SFM's Editor takes in the exhibit celebrating 80 years of the Japan Sumo Association at this famous Tokyo museum

John's early morning trip to Hakkaku – a visit that almost didn't happen

with SFM's Mark Buckton to discuss the broadcast scene – and maple syrup

Photo Bonanza
What a collection – All-Japan Sumo Tournament, Hakkaku-
beya visit and sumo exhibits at the Edo-Tokyo Museum

Kyushu Basho Review


Lon Howard


Lon gives us his Kyushu Basho summary, along with the henka sightings results, and his take on the year in brief

Lower Division Rikishi


Mikko Mattila


Mikko Mattila covers lower division ups and downs

Pierre predicts the Hatsu Basho banzuke while Mark previews the ones to watch for in January

Sumo 101


Eric Blair


Eric explains all you need to know and then some about the Kokugikan building – the mecca of sumo

Mikko walks us through his chosen kimarite in expert fashion

Minusha


John McTague


John's unique bimonthly view of news from outside the dohyo

Online Gaming


Eric Blair


For the lowdown on Guess the Kotomitsuki – baby of SFM's John Gunning

Kokugi Connections


Todd Lambert


Todd's bimonthly focus on 3 of the most interesting sumo sites today

OK or not? See what our debaters had to say

SFM Cartoons


Stephen Thompson


In the second of our cartoon bonanzas, sit back and enjoy ST's offerings

Let's Hear From You
What was it that made you a sumo fan? American Todd Defoe tells all

Readers' Letters
See what SFM readers had to say since our last issue

Sumo Quiz


The Quizmaster


Answer the Qs and win yourself next basho's banzuke.

Hanging with the Rikishi –
A Personal Pictorial Diary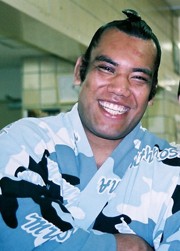 Minaminoshima



over the world who came to this very different culture, leaving behind their friends and families.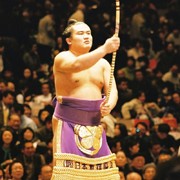 Oga as yumitori



Most of my informally adopted rikishi have stayed within the lower, non-salaried ranks. Take Minaminoshima, the Tongan from Musashigawa-beya, or Seiryu and Yuki, two sandanme

Next Home



I'm the luckiest woman in sumo. I don't broadcast, I don't speak Japanese (well, just a little), I'm not an artist or an historian and I don't live in or have a second home in Japan – not yet! – but I am so fortunate to know so many rikishi, from jonokuchi to the yokozuna himself. Consider this: from attending one basho in 1998 to going to at least one day (that was Kyushu) of all six during this past year, I am now called by name by many of those same jonokuchi, or at least, at this time – jonidan – to yokozuna, as well as gyoji, tokoyama (hairdressers), oyakata and okamisan. I've had the privilege of attending weddings, retirements and senshuraku parties galore and eating chanko with so many. I have also made some very wonderful friendships, which is the most important thing about being the "luckiest".

But I digress. My column is about hanging out with the rikishi, which will, of course, involve namedropping. Ye critics of mine who will accuse me of that, I have jumped the gun,




because that's exactly what I will be doing!

I started many of my relationships with the "boys" as I call them, through personal introduction, personal observation at asageiko (morning practice), or just initiating a casual conversation with a rikishi at a sumo venue.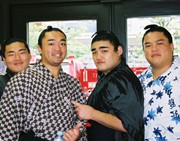 Yuki, Onoshima (retired), Takashoma and Hokutosho



One approaching Christmas, several years ago, Katrina Watts indicated to the sumo mailing list that it might be nice to send greetings to foreign rikishi who are away from their native lands and might be homesick for their holiday celebrations. Taking that advice also prompted some lasting relations with rikishi from all