Nagoya Nears


Eric Blair
As Nagoya nears, EB gets a head start on the pack by focussing on points of interest, past and present surrounding sumo's hottest basho

The 42nd yokozuna Kagamisato falls under the JK microscope


Heya Peek


Barbara Ann Klein
Kokonoe-beya and the Chiyo Boys

SFM's Ed-in-Chief interviews Estonian up and comer Baruto

SFM's Editor looks at all the twists and turns involved in the tsunauchi-shiki and adds a photo bonanza to boot

Basho and Kokonoe-beya photo bonanzas

Lon gives us his Natsu Basho summary, along with the henka sightings results

Mikko Mattila lets you know what is going on down below the curtain

MB's mixed bag of things to look out for in Nagoya

Our man Mikko takes us on a tour of several defensive oriented kimarite

The first of our regular column pieces on the amateur sumo scene from a man who knows more than most

For a look at his very own: PTYW (Pick The Yusho Winners)

SFM's Editor reviews the newly published biography of Akebono, Gaijin Yokozuna – but sees it as more than just a biography

Check out Todd's bimonthly focus on 3 of the WWW's best sumo sites around

Sumo author Mina Hall and long long time fan Jim Bitgood discuss how to make sumo more entertaining – if such a concept is even necessary

Sit back and enjoy the offerings of sumo's premier artists


Let's Hear From You


What was it that
made you a sumo fan? James Vath in rural Japan lets us in on his gateway to the sport

See what our readers had to say since we last went out

Sumo Quiz


The Quizmaster


Answer the Qs and win yourself next basho's banzuke.

Heya Peek : Kokonoe-beya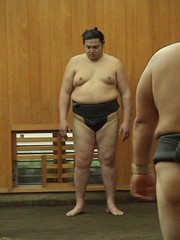 Chiyotenzan

Chiyonoretsu, Chiyomuso, Chiyonishiki, et, oui, Chiyohakuho et Chiyotenzan. Parmi quelques autres jeunes lutteurs que nous sommes incapables d'identifier à partir

Suite





Se rendre à un asageiko dans la Kokonoe-beya est toujours une expérience assez intimidante pour moi. Kokonoe oyakata, l'ancien grand yokozuna Chiyonofuji, montre un visage sévère lorsqu'il officie comme shinpan au bord du dohyo. Il en est de même au sein de la heya. Peu importe que l'on ait une attitude ultra appropriée dans l'attente d'une session matinale d'entraînement, ou qu'on ait un nombre de visite énorme avec un nombre de visites appropriées, à un moment les portes coulissantes s'ouvrent et Kokonoe oyakata, dans ses vêtements blancs de la heya, montre son regard menaçant hors de la salle à manger/dortoir. Un matin, alors que j'ouvrais le shoji de l'aire d'observation en entrant dans la heya, je me suis trouvé littéralement à vingt centimètres face à face avec l'oyakata. Souriante, m'inclinant et murmurant un « ohayo gozaimasu » (bonjour), je rougis alors que Kokonoe s'écarta et me montra le zabuton pour que nous puissions nous asseoir « confortablement ». Waouh !





En ce petit matin humide et froid de mai – rien n'est jamais gagné – nous demandons dûment la permission d'entrer aux jeunes rikishi attendant près de la cuisine et du débarras situé près de la porte de derrière. Nous poussons un soupir de soulagement après notre entrée sans incident – ou rencontre avec un oyakata – et commençons à regarder le keiko.

Au départ, les habitués sont présents – les non sekitori, en l'occurrence – Chiyonohana,