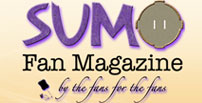 What Will Become of the Dynasty?
Brian Lewin
The Hanada Dynasty – past or present?

Rikishi of Old
Joe Kuroda
A look at a rikishi of yesteryear with Tenryu our man for August.

Heya Peek
John Gunning
John attends a chanko session at Chiganoura Beya.

Photo Bonanza
For a glimpse at some of the sights you won't see on TV.

July Basho Review
Lon Howard & John Gunning
Lon gives us his Nagoya Basho summary and his take on upset of the tournament while John chips in with his 'gem' of the basho.

Lower Division Rikishi
Mikko Mattila takes a break and Eric Blair covers the lower divisions in his own 'unique' way.

Aki Basho Forecast
Pierre Wohlleben & Mark Buckton
Pierre predicts the Aki Basho banzuke while Mark previews the ones to watch next time out.

Sumo 101
Barbara Ann Klein
Gyoji goings on and several things you never knew about the ones officiating.

Kimarite Focus
Mikko Mattila
Mikko walks us through his 2 chosen kimarite.

Minusha
John McTague
John's unique view of news from outside the dohyo.

Boletín de Sumo en Español
Eduardo de Paz Gútiez
An article on sumo's very first fan mag – Boletin de Sumo en Espanol

Online Gaming
Jezz Sterling
Hear from the founder of Bench Sumo of one of sumo's most popular games.

Kokugi Connections
Todd Lambert
Todd's focus on 3 of the most interesting online sumo sites today.

Fan Debate
Henka – good, bad or ugly? See what our debaters think.

Let's Hear From You
What was it that made you a sumo fan – the Petros Zachos story.

Ngozi on the Road
Ngozi T. Robinson
NTR visits an amasumo event in the north-east U.S. and tells us what it was like.

Sumo Quiz
The Quizmaster
Answer the Qs and win yourself next basho's banzuke.

Boletín de Sumo en Español

by Eduardo de Paz Gútiez





fan of this sport. Included in the file was all the latest news from my website but in a much better and professional format. He asked me my opinion about this file and he suggested to me the possibility of making a monthly magazine with more news and articles and using this new design. Of course my answer was a big "YES".

Some other members of the Spanish sumo mailing list, Rubén Sánchez, Pedro Dolcet, Victor Ramos... decided from the beginning to collaborate with their own articles or by making translations from the English news and articles sent to the English sumo mailing list by people like Alexander Nitschke, Joe Kuroda, Katrina Watts, Moti Dichne, Masumi Abe, etc. Another friend, András 'Bandey' Lédeczi, created the Japanese characters for the main page. The final result was our first issue of the "Boletín de Sumo en Español".

I think we have opened up a new resource for sumo information, which has been followed by Nicolas and his French guys with 'Le Monde du Sumo' and now this fantastic English publication named 'Sumo Fan Magazine'. Our Spanish magazine will support it as much as we can and we hope that very soon this could be a new world sumo issue for all the fans not only in Japan, but all over the world.

Gambatte SFM!

Home



The Spanish sumo bulletin was born after some coincidence. I began to develop an interest in sumo around 1995 when I subscribed to the local cable TV and I began to receive Eurosport. They broadcast all the sumo tournaments, but I really didn't understand too much about them. I usually asked myself, "What is a komusubi? Is a maegashira 10 better than a maegashira 2?" and so on. In 1997, I began to use the Internet and I remember that one of the first things I looked for was information about sumo. I discovered the "Sumo Mailing List". I must say that I learned a lot about sumo, but there was no site in any language other than Japanese or English, so I decided to open my own website in Spanish about sumo. I wanted all the Spanish sumo fans out there to have a site in their own language, to read the news about this sport and to learn all the rules, kimarite, rikishi, etc.
During those early years, I began to write my first e-zine, named "Han-Basho", which included information about sumo and handball (another of my favorite sports), although this venture didn't survive more than a few months, because of a lack of free time more than a lack of interest.





A couple of years later and after receiving some e-mails from Spanish sumo fans, I decided to open a Spanish sumo mailing list. A lot of people from different places all over the world began to subscribe to this list. Actually there are about 100 people on this list today, coming from countries as varied as Spain, Argentina, Peru, Chile, Colombia, USA, Sweden, Hungary, France, Italy... and of course Japan and there is always a very good feeling between us all. Over the years, all the Spaniards on the list have had three meetings (in Madrid, Leon and Seville) to talk about our common passion – sumo.
Throughout this time I was subscribed to "Sumo World", the one and only magazine about sumo in any language other than Japanese. Many of us know the problems with this magazine and unfortunately subscribers didn't receive any issues after the beginning of the new millennium. I was very sad when this problem occurred and so I decided to rescue the old e-zine published on my website at the end of the 90's, but this time to only dedicate it to sumo. One day I received a PDF file from my very good friend José Luis Corral, Eurosport Sumo commentator and a big