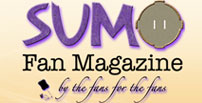 What Will Become of the Dynasty?
Brian Lewin
The Hanada Dynasty – past or present?

Rikishi of Old
Joe Kuroda
A look at a rikishi of yesteryear with Tenryu our man for August.

Heya Peek
John Gunning
John attends a chanko session at Chiganoura Beya.

Photo Bonanza
For a glimpse at some of the sights you won't see on TV.

July Basho Review
Lon Howard & John Gunning
Lon gives us his Nagoya Basho summary and his take on upset of the tournament while John chips in with his 'gem' of the basho.

Lower Division Rikishi
Mikko Mattila takes a break and Eric Blair covers the lower divisions in his own 'unique' way.

Aki Basho Forecast
Pierre Wohlleben & Mark Buckton
Pierre predicts the Aki Basho banzuke while Mark previews the ones to watch next time out.

Sumo 101
Barbara Ann Klein
Gyoji goings on and several things you never knew about the ones officiating.

Kimarite Focus
Mikko Mattila
Mikko walks us through his 2 chosen kimarite.

Minusha
John McTague
John's unique view of news from outside the dohyo.

Boletín de Sumo en Español
Eduardo de Paz Gútiez
An article on sumo's very first fan mag – Boletin de Sumo en Espanol

Online Gaming
Jezz Sterling
Hear from the founder of Bench Sumo of one of sumo's most popular games.

Kokugi Connections
Todd Lambert
Todd's focus on 3 of the most interesting online sumo sites today.

Fan Debate
Henka – good, bad or ugly? See what our debaters think.

Let's Hear From You
What was it that made you a sumo fan – the Petros Zachos story.

Ngozi on the Road
Ngozi T. Robinson
NTR visits an amasumo event in the north-east U.S. and tells us what it was like.

Sumo Quiz
The Quizmaster
Answer the Qs and win yourself next basho's banzuke.

Heya Peek:
Chiganoura Beya

by John Gunning




there are high hopes for Attila Tóth from Hungary, who goes by the shikona of Masutoo (a combination of his oyakata's name and his eastern European origins, he told me).

The heya is located just a ten minute walk from the dojo where I train each weekend. It is actually the old Takasago-beya building, and, once inside, I was imagining what it must have been like to be there to watch Konishiki train. The closest station is Minami Senju on the JR Joban or Metro Hibiya lines

Next Home


The second installment in this series was by way of invitation to a chanko dinner at Chiganoura-beya on a day when the wrestlers were not training. The comment I made in my first article about each heya visit being different is certainly ringing true thus far.
First a little background on the heya itself. As those of you who follow sumo closely will be





aware, Chiganoura is the newest stable in sumo. The oyakata is known to have been thinking about setting up his own stable since he lost out to former sekiwake Tochinowaka in the race to take over Kasugano beya two years previously. He was finally able to realize that dream last September. The stable is currently home to six rikishi, none of whom are sekitori, but