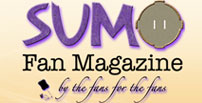 What Will Become of the Dynasty?
Brian Lewin
The Hanada Dynasty – past or present?

Rikishi of Old
Joe Kuroda
A look at a rikishi of yesteryear with Tenryu our man for August.

Heya Peek
John Gunning
John attends a chanko session at Chiganoura Beya.

Photo Bonanza
For a glimpse at some of the sights you won't see on TV.

July Basho Review
Lon Howard & John Gunning
Lon gives us his Nagoya Basho summary and his take on upset of the tournament while John chips in with his 'gem' of the basho.

Lower Division Rikishi
Mikko Mattila takes a break and Eric Blair covers the lower divisions in his own 'unique' way.

Aki Basho Forecast
Pierre Wohlleben & Mark Buckton
Pierre predicts the Aki Basho banzuke while Mark previews the ones to watch next time out.

Sumo 101
Barbara Ann Klein
Gyoji goings on and several things you never knew about the ones officiating.

Kimarite Focus
Mikko Mattila
Mikko walks us through his 2 chosen kimarite.

Minusha
John McTague
John's unique view of news from outside the dohyo.

Boletín de Sumo en Español
Eduardo de Paz Gútiez
An article on sumo's very first fan mag – Boletin de Sumo en Espanol

Online Gaming
Jezz Sterling
Hear from the founder of Bench Sumo of one of sumo's most popular games.

Kokugi Connections
Todd Lambert
Todd's focus on 3 of the most interesting online sumo sites today.

Fan Debate
Henka – good, bad or ugly? See what our debaters think.

Let's Hear From You
What was it that made you a sumo fan – the Petros Zachos story.

Ngozi on the Road
Ngozi T. Robinson
NTR visits an amasumo event in the north-east U.S. and tells us what it was like.

Sumo Quiz
The Quizmaster
Answer the Qs and win yourself next basho's banzuke.

Rikishi of Old: Tenryu Saburo
and Shunjuen Incident
by Joe Kuroda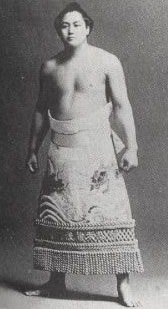 ceremony and formally proclaimed their withdrawal from the Kyokai. Meanwhile, the Kyokai announced the expulsion of 48 rikishi including ozeki Onosato, and released a newly revised banzuke for an eight-day basho to be held in February 1932. As a result, the January 1932 banzuke became a phantom banzuke with which no basho was ever associated. (Banzuke)
The mastermind and central figure of this "Shunjuen Incident" was sekiwake Tenryu Saburo. Born the third son of a farmer in Hamamatsu City, Shizuoka Prefecture on November 1, 1903, Tenryu

Next Home



In the world of Ozumo there is nothing more sacrosanct than the banzuke. It is simply the essence and core of the sport. Even during the closing days of World War II in June 1945, with many rikishi missing due to war duty, and Japanese people not certain where their next meal was coming from, the Kyokai held a closed-to-the-public 7-day basho to preserve banzuke continuity. It was held at the burned-out Kokugikan under a threat of air raids. Maegashira east 1, Bishuyama, won the yusho with a 7-win and no-loss record at this basho. The determination to hold the tournament was based on the Kyokai's unassailable belief that once a banzuke is set, a basho must be held to "set" the next banzuke.
In this context, the so-called "Shunjuen Incident" that took place in January 1932 was nothing less than remarkable in its scope and reach, as it shook the very foundation of the Ozumo society.
One day after the January Banzuke release, on January 6, 1932, 32 Dewanoumi Ichimon rikishi – 20 makuuchi, 11 juryo





and one makushita – gathered at a Chinese restaurant named Shunjuen, located in Tokyo's Oimachi district. Their aim was to demand full scale reforms from the Kyokai executives to improve rikishi living conditions.
Subsequently, a number of sekitori from a non-Dewanoumi Ichimon, including sekiwake Asashio Tomojiro (later yokozuna Minanogawa), joined the protest and the Kyokai was faced with an unprecedented crisis never before seen in the history of Ozumo. The Kyokai executives responded quickly to the group's demands, but their responses were considered to be half-hearted and lacking in substance, and eventually, the negotiations collapsed. (Group Demands and Kyokai Responses)
The Kyokai was consequently forced to postpone the whole January basho as the bulk of the remaining makuuchi and juryo rikishi threatened to join the walkout.
To show their own serious intent, thirty rikishi even performed the "mage" cutting