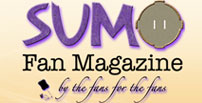 What Will Become of the Dynasty?
Brian Lewin
The Hanada Dynasty – past or present?

Rikishi of Old
Joe Kuroda
A look at a rikishi of yesteryear with Tenryu our man for August.

Heya Peek
John Gunning
John attends a chanko session at Chiganoura Beya.

Photo Bonanza
For a glimpse at some of the sights you won't see on TV.

July Basho Review
Lon Howard & John Gunning
Lon gives us his Nagoya Basho summary and his take on upset of the tournament while John chips in with his 'gem' of the basho.

Lower Division Rikishi
Mikko Mattila takes a break and Eric Blair covers the lower divisions in his own 'unique' way.

Aki Basho Forecast
Pierre Wohlleben & Mark Buckton
Pierre predicts the Aki Basho banzuke while Mark previews the ones to watch next time out.

Sumo 101
Barbara Ann Klein
Gyoji goings on and several things you never knew about the ones officiating.

Kimarite Focus
Mikko Mattila
Mikko walks us through his 2 chosen kimarite.

Minusha
John McTague
John's unique view of news from outside the dohyo.

Boletín de Sumo en Español
Eduardo de Paz Gútiez
An article on sumo's very first fan mag – Boletin de Sumo en Espanol

Online Gaming
Jezz Sterling
Hear from the founder of Bench Sumo of one of sumo's most popular games.

Kokugi Connections
Todd Lambert
Todd's focus on 3 of the most interesting online sumo sites today.

Fan Debate
Henka – good, bad or ugly? See what our debaters think.

Let's Hear From You
What was it that made you a sumo fan – the Petros Zachos story.

Ngozi on the Road
Ngozi T. Robinson
NTR visits an amasumo event in the north-east U.S. and tells us what it was like.

Sumo Quiz
The Quizmaster
Answer the Qs and win yourself next basho's banzuke.

MINUSHA
by John McTague





one elderly gentleman 20 years ago has become a best seller for Takahashi, especially among gift-givers seeking traditional Japanese items – not to mention all of the Tarzan impersonators out there.
Other News
The opening track of Jazz trumpeter Terumasa Hino's latest album "Dragon" is a tribute to Asashoryu called "Mongolian Dragon".
Two sumo wannabes have been hurt recently in mock wrestling – A Boy Scout who fell and hit his head during a mock sumo wrestling match at a Colorado Springs Sky Sox baseball game was listed in good condition at The Children's Hospital in Denver after the accident. Also, Tyler Follon, 13, was taken to the hospital after suffering a head injury at the game and is the second Colorado youth in six weeks to be injured in a mock sumo match.
A Japanese study found that sumo wrestlers had normal levels of cholesterol, triglycerides and blood sugar in spite of their large size and voluminous rolls of fat. That's because they don't have much visceral fat coating their bodies due to several hours of daily exercise; that means

Next Home



Women on the Dohyo
Until the 1960's, women's sumo was a very popular sport in Japan, Taiwan and Hawaii. Before World War II, it had as many fans as men's sumo. However, it had no yokozuna and over time it all but disappeared. These days, there are more and more women participating in sumo than ever.
Last year, the son of former women's ozeki Wakamidori published a biography of his mother through the Asahi Shimbun Publishing Co. The book has even been converted to a stage play with film rights up for grabs.
Among the interesting tidbits from the book is "hajikara", in which a wrestler picked up rice straw with her teeth and pounded steamed rice on her abdomen into dough used for rice cakes.
The professional sumo world today is still closed to women, with persistent prejudice shown against them and yet while many people remain tight-lipped about women's sumo, the Tohoku University of Art and Design in Yamagata Prefecture is offering





lectures on women's sumo. You've come a long way, ladies.
Putting the "fun" in fundoshi
Down on the Ginza, among the many shops and restaurants of Japan's most upmarket shopping district sits Mitsukoshi, Ltd – a retailer like many other Ginza department stores. Only now, one of Japan's simplest traditional garments sold at the store is getting a new look and in the process is giving a boost to overall sales.
The "fundoshi", a loincloth, has been seen lately in Mitsukoshi's men's department in a stunning array of colors and patterns. The garment has been around for centuries but fell out of fashion about 25 years ago. Now, spurred by housewives and businessmen out to make a quick yen, a fundoshi revival is in full swing.
Smart sumo-goods store owners are also getting in on the act with their own version of the fundoshi craze…with a twist. "Chikara Hadagi" or Power Underwear is what you'll find at shops like Ryogoku Takahashi Co. in Sumida Ward. What started as a special order for