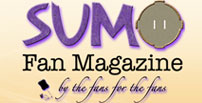 What Will Become of the Dynasty?
Brian Lewin
The Hanada Dynasty – past or present?

Rikishi of Old
Joe Kuroda
A look at a rikishi of yesteryear with Tenryu our man for August.

Heya Peek
John Gunning
John attends a chanko session at Chiganoura Beya.

Photo Bonanza
For a glimpse at some of the sights you won't see on TV.

July Basho Review
Lon Howard & John Gunning
Lon gives us his Nagoya Basho summary and his take on upset of the tournament while John chips in with his 'gem' of the basho.

Lower Division Rikishi
Mikko Mattila takes a break and Eric Blair covers the lower divisions in his own 'unique' way.

Aki Basho Forecast
Pierre Wohlleben & Mark Buckton
Pierre predicts the Aki Basho banzuke while Mark previews the ones to watch next time out.

Sumo 101
Barbara Ann Klein
Gyoji goings on and several things you never knew about the ones officiating.

Kimarite Focus
Mikko Mattila
Mikko walks us through his 2 chosen kimarite.

Minusha
John McTague
John's unique view of news from outside the dohyo.

Boletín de Sumo en Español
Eduardo de Paz Gútiez
An article on sumo's very first fan mag – Boletin de Sumo en Espanol

Online Gaming
Jezz Sterling
Hear from the founder of Bench Sumo of one of sumo's most popular games.

Kokugi Connections
Todd Lambert
Todd's focus on 3 of the most interesting online sumo sites today.

Fan Debate
Henka – good, bad or ugly? See what our debaters think.

Let's Hear From You
What was it that made you a sumo fan – the Petros Zachos story.

Ngozi on the Road
Ngozi T. Robinson
NTR visits an amasumo event in the north-east U.S. and tells us what it was like.

Sumo Quiz
The Quizmaster
Answer the Qs and win yourself next basho's banzuke.

information on sumo a bit tough.
I found a couple of sites that had short biographies on active rikishi, results and some data on the origins of the sport, so I "sucked" all the information as fast as possible. From the point I learned about the hard life and training of these athletes I sincerely started to admire them.
At some point then I watched the bout that changed my life as a sumo fan. It was Musashimaru, at 220 kg back then, versus Kaiho who weighted a mere 120 kg. Kaiho was looking like a kid trying to fight a monster but he was fighting very strong and I suddenly realised that at some point I was cheering for HIM instead of 'Maru' – my favourite. The bout ended with a terrific uchigake by Kaiho; that was his first and only kinboshi. Since that day I have been a Kaiho fan, and even now his performance remains my main concern in every basho.
The years passed and a lot of new "heroes and foes" emerged. I consider myself a more mature fan now and I am looking for more when I watch the bouts. While the rivalries have lost their appeal to me, I do want to




see good techniques, defensive moves and strong attacking sumo. I am also trying to practice sumo myself, but living in Greece makes it very difficult. Happily, this might change now that the Hellenic Sumo Federation is a reality.
My full-time obsession was rewarded when a sports magazine agreed to let me write articles about sumo on a monthly basis. I am not earning money from this – I do it for my love of the sport and with the hope that someone will read my articles and develop a sumo addiction him/herself.
Being realistic though, I cannot consider myself a true sumo fan if I don't go to Japan one day to watch a basho up-close. I can guarantee that the day for that is coming and then someone will have to drag me out of the Kokugikan and send me back to Greece, when the tournament comes to an end …….
---
The article above and opinions on sumo there expressed are those of the individual sharing his / her experience on becoming a sumo fan and in no way represent the opinions of Sumo Fan Magazine.
Home