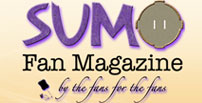 What Will Become of the Dynasty?
Brian Lewin
The Hanada Dynasty – past or present?

Rikishi of Old
Joe Kuroda
A look at a rikishi of yesteryear with Tenryu our man for August.

Heya Peek
John Gunning
John attends a chanko session at Chiganoura Beya.

Photo Bonanza
For a glimpse at some of the sights you won't see on TV.

July Basho Review
Lon Howard & John Gunning
Lon gives us his Nagoya Basho summary and his take on upset of the tournament while John chips in with his 'gem' of the basho.

Lower Division Rikishi
Mikko Mattila takes a break and Eric Blair covers the lower divisions in his own 'unique' way.

Aki Basho Forecast
Pierre Wohlleben & Mark Buckton
Pierre predicts the Aki Basho banzuke while Mark previews the ones to watch next time out.

Sumo 101
Barbara Ann Klein
Gyoji goings on and several things you never knew about the ones officiating.

Kimarite Focus
Mikko Mattila
Mikko walks us through his 2 chosen kimarite.

Minusha
John McTague
John's unique view of news from outside the dohyo.

Boletín de Sumo en Español
Eduardo de Paz Gútiez
An article on sumo's very first fan mag – Boletin de Sumo en Espanol

Online Gaming
Jezz Sterling
Hear from the founder of Bench Sumo of one of sumo's most popular games.

Kokugi Connections
Todd Lambert
Todd's focus on 3 of the most interesting online sumo sites today.

Fan Debate
Henka – good, bad or ugly? See what our debaters think.

Let's Hear From You
What was it that made you a sumo fan – the Petros Zachos story.

Ngozi on the Road
Ngozi T. Robinson
NTR visits an amasumo event in the north-east U.S. and tells us what it was like.

Sumo Quiz
The Quizmaster
Answer the Qs and win yourself next basho's banzuke.

unsalaried divisions this time out that the masses (and masses) of SFM readers would like to hear about from one such as I? If truth be told, the lower divisions of this fascinating sport, with their hundreds of dedicated rikishi, deserve the monitoring and comments of a person like Mikko. Yours truly could write but it wouldn't be from the heart; where the written word should originate.

However, given this opportunity by the absence of my colleague, I would like to take you all back down the banzuke to the second band of rikishi from the bottom, where the light is darker and the food lukewarm at best. The land of the bath water with a permanent scum. Where the sumo is hard and the off-dohyo work just as grim. Where are we going? To the jonidan division, of course. Home of the relative newbies, the guys who have been up and have dropped down for one reason or another. And, of course – the semi-permanent home of the most famous jonidaner of them all – Ichinoya – a man, a legend, a way of life.

Consider this – when the current yokozuna, Asashoryu, was just 3 years old, Ichinoya was entering sumo! As a pro!




When the yokozuna was still toddling about making noises that few understood, this man was a professional in one of the most physically and mentally demanding sports on the planet – and he is still here! Anyway, I get ahead of myself in my bid to give this man of lore a fitting, though brief send off even before he has packed it in. (when you write like me you have to take every chance you get, so don't question my timing, please).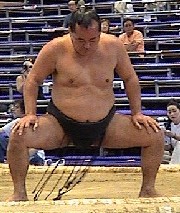 Photograph by Barbara Ann Klein
Born in Kagoshima at the end of December 1960, just 15 years after the end of WWII, the man currently listed by the Nihon Sumo Kyokai as a mere 165.5 cm grew up on Tokunoshima Island. Isolated from the politically motivated rioting of the 60s, the young Ichinoya's interest in sumo




probably came about due to the combination of a lack of other forms of entertainment on the island and his interest in the life of the island's most famous son to date; sumo's 46th yokozuna, Asashio. (also the former shikona of his current stable master – Takasago oyakata).

By the time he was ready to graduate high school and consider universities, sumo was circulating in his bloodstream –
a virus not set to let go any time soon. For personal reasons, Ichinoya opted for the the University of the Ryukyus after deciding against the more prestigious "sumo factory" universities scattered around the nation.

Entering the university to study physics, Ichinoya spent the next four years in the company of text books on Einstein and fellow students on the dohyo. Shitatenage and science were the norm.

Then, with university out of the way, aged 22, Ichinoya entered sumo at the Kyushu Basho of 1983; a couple of years after Di married Charles, a couple before

Next Home