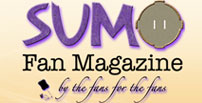 What Will Become of the Dynasty?
Brian Lewin
The Hanada Dynasty – past or present?

Rikishi of Old
Joe Kuroda
A look at a rikishi of yesteryear with Tenryu our man for August.

Heya Peek
John Gunning
John attends a chanko session at Chiganoura Beya.

Photo Bonanza
For a glimpse at some of the sights you won't see on TV.

July Basho Review
Lon Howard & John Gunning
Lon gives us his Nagoya Basho summary and his take on upset of the tournament while John chips in with his 'gem' of the basho.

Lower Division Rikishi
Mikko Mattila takes a break and Eric Blair covers the lower divisions in his own 'unique' way.

Aki Basho Forecast
Pierre Wohlleben & Mark Buckton
Pierre predicts the Aki Basho banzuke while Mark previews the ones to watch next time out.

Sumo 101
Barbara Ann Klein
Gyoji goings on and several things you never knew about the ones officiating.

Kimarite Focus
Mikko Mattila
Mikko walks us through his 2 chosen kimarite.

Minusha
John McTague
John's unique view of news from outside the dohyo.

Boletín de Sumo en Español
Eduardo de Paz Gútiez
An article on sumo's very first fan mag – Boletin de Sumo en Espanol

Online Gaming
Jezz Sterling
Hear from the founder of Bench Sumo of one of sumo's most popular games.

Kokugi Connections
Todd Lambert
Todd's focus on 3 of the most interesting online sumo sites today.

Fan Debate
Henka – good, bad or ugly? See what our debaters think.

Let's Hear From You
What was it that made you a sumo fan – the Petros Zachos story.

Ngozi on the Road
Ngozi T. Robinson
NTR visits an amasumo event in the north-east U.S. and tells us what it was like.

Sumo Quiz
The Quizmaster
Answer the Qs and win yourself next basho's banzuke.

(real name Saburo Wakuta) was a good student and enjoyed studying. That said, due to a local custom, he was not able to attend a middle school after graduating from elementary school, and instead, was sent to work at a shipyard as an assistant to the executive.
By this time, Saburo was already well known locally for his size as his height reached 176 cm. Dewanoumi Oyakata (former yokozuna Hitachiyama) became interested enough to personally go to see Saburo and invited him to join Dewanoumi-beya. Saburo initially declined the offer as he was still hoping to continue his studies; however, when the oyakata came back a year later to visit him again, he relented and made up his mind to join.
The young Tenryu was not an immediate success after making his dohyo debut as he lacked power and was still learning sumo techniques. Furthermore, in his early years, Tenryu was not able to do as much training as he liked, since, as an expert letter writer, he was always in demand to help top-ranked rikishi and oyakata compose and write letters and other correspondence. Soon, though, Tenryu adopted and improved his tsuppari, tsuri and uwatenage kimarite by utilizing his tall frame and flexibility,





and was starting to win more and more bouts. As a result, after a while, he had no trouble at all against those with less power and speed. Tenryu was an intellectual who studied his opponents' moves closely, but he trained ferociously as well and his tenacious sumo became legendary. For instance, on day 8 at the May 1931 basho he faced ozeki Noshirogata and the bout ended in a draw. Both men requested a rematch and faced each other again on day 10 – Tenryu finally prevailing.
Tenryu and his heya mate, Musashiyama (later the 33rd yokozuna), displayed a fierce rivalry against each other in competition for promotion to ozeki. In fact, some thought that Tenryu initiated the Shunjuen protest due to his bitterness from being passed over for ozeki promotion in favor of his rival. Indeed, Musashiyama did jump over Tenryu (from komusubi straight to ozeki) in the January 1932 basho while Tenryu remained sekiwake for six consecutive basho despite having a winning record in each. (Tenryu Career Record)
Little credence was put to this theory, though, as it is absurd to believe that all the other rikishi would give up their security and their loyalty to their shisho to bolt out of the Kyokai following Tenryu's lead – if pure jealousy





was the reason behind his instigating the rebellion.
Let's take a close look at the hoshitori records of sekiwake Tenryu and komusubi Musashiyama. Performances in the May and October 1931 basho determined the January 1932 banzuke. In this period, one basho would be held in Tokyo, then the next one, in another region such as Osaka, Kyoto or Nagoya. The new banzuke ranking was determined only at the Tokyo basho based on the records from the previous two basho combined. Tenryu had 6 wins and 5 losses while Musashiyama had 10 wins and 1 loss in the May 1931 basho. In the October basho, Tenryu had 8 wins and 3 losses, and Musashiyama had 8 wins, 2 losses and 1 kyujo. At the end of this October basho, Tenryu had the two basho total of 14 wins and 8 losses and Musashiyama had 18 wins, 3 losses and 1 kyujo. As they were both in Dewanoumi Ichimon, they never faced each other. In fact, the banzuke of this period had either the east or the west side made up entirely of Dewanoumi Ichimon rikishi. Musashiyama did, indeed, have good enough records to be promoted to ozeki at the January 1932 basho, but

Next Home